Fixel Algorithms
14 July 2016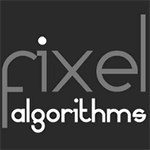 The Fixel Team specializes in developing and implementing Advanced and Innovative Image and Video Processing Algorithms to expand image and video manipulation abilities of the End User.
Our team objective is to multiply pixels to look good, add them up to be sharp, divide them to make them vivid and subtract them to make them noise free, Fixel them so you would like each and every one of them.
Our teams is composed of Image Processing Experts and UI Wizards.
We aim for simple and effective tools for the Image and Video Processing / Editing world.
If you have any question, suggestion or feel the need to say Hi! don't think twice and Contact Us.
Key Words: Fixel Algorithms, Fixel, Algorithms, Image Processing, Image Enhancement, Photo Enhancement, Photoshop Plug In, After Effects Plug In, Premiere Plug In.